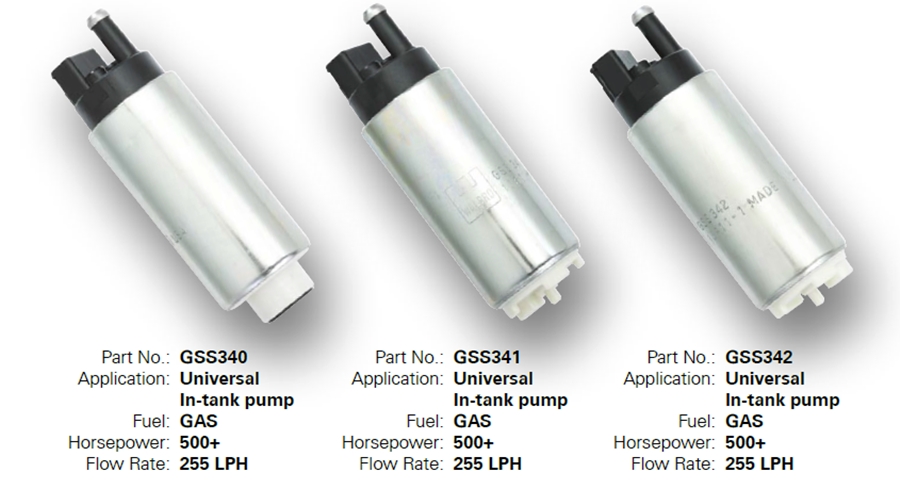 Walbro GSS-Line High-Performance Fuel Pumps:
Features
• Wide range of OEm inlet adapters
• low amp draw
• Wide range of high-efficiency, high-performance
automotive makes
• Capable of handling 500HP+ under standard operating conditions
• Design based on TI Automotive OEm Chevrolet Corvette
and Dodge Viper technology


The "Gold standard"
HP (High Pressure) - GSS340,GSS341,GSS342 are the main Walbro 255 high pressure intank fuel pumps. GSL392 is also a 255LPH high pressure pump, however this model is an inline fuel pump, which means it usually mounts outside the fuel tanks.
If your vehicle is used for racing purposes, heavy hauling, or in high powered turbo vehicles, OE spec Walbro Fuel pumps may not supply enough fuel to satisfy your engines needs. The Walbro 255LPH high pressure fuel pump is highly recommended for vehicles with engine performance purposes. Installing a Walbro high pressure fuel pump in a non-performance vehicle will not damage your motor. All fuel first passes through fuel injectors and a fuel pressure regulator which only send the required amount of fuel into the intake manifold, sending the unused fuel (usually more than 1000%) back to the fuel tank.
The Walbro GSS line of high-performance fuel pumps
have been widely recognized as the "Gold Standard" in
the industry for more than 20 years. Walbro GSS pumps
are compatible with a wide range of vehicles, feature
unsurpassed quality, durability and performance, and are
designed and manufactured in the USA.

HIGH PRESSURE
GSS PUMPS
HIGH-PERFORMANCE FUEL PUMPS
TI Automotive fuel pumps with brush and brushless motors are available in multiple sizes and materials for gasoline, diesel and flex-fuel applications. With a comprehensive line of gear, screw and turbine available with brush or brushless confi gurations, TI Automotive pumps are designed for reliable, effi cient and quiet performance.
Features & Benefits:
Fuel pump technology built to exceed OE specifications


Dual Channel Single Stage (DCSS) pump motor
technology to prevent cavitation


High flow rates available (up to 450 LPH)


High pressure performance (up 112 psi) with minimal flow loss




Superior hot fuel handling performance
Walbro Automotive Fuel Pumps are now TI Automotive
For decades, Walbro fuel pumps were manufactured by TI Automotive. Now, the Walbro name for automotive fuel pumps is TI Automotive. Same performance, quality and reliability that you have come to know and expect.
About TI Automotive
TI Automotive manufactures a complete line of fuel pumps, accessories, pump kits and fuel modules for the high-performance aftermarket. Approximately two-thirds of the vehicles produced around the world feature TI Automotive's fl uid systems products and technology. TI Automotive's award-winning fuel delivery system technology is featured on some of the world's highest performing production vehicles, such as the Bugatti Veyron, Dodge Challenger SRT Hellcat, Dodge Viper, Dodge Charger SRT Hellcat and Koenigsegg One:1.
MORE PRESSURE = MORE POWER
High pressure GSS Pumps
F20000311 = GSS340 with a higher pressure relief. 22mm center inlet
F20000312 = GSS341 with a higher pressure relief. 11mm inlet, 180 degrees from the outlet
F20000313 = GSS342 with a higher pressure relief. 11mm inlet, in line with the outlet
Higher pressure relief for cars that require a higher fuel system pressure than that which can be supported by GSS340, GSS341, GSS342
Great for forced induction (turbocharged,supercharged) applications
255 lph pumps can support 500 horsepower
Proven, robust gerotor technology
OE quality
Professional installation recommended
TYPICAL F20000311, F20000312, & F20000313 FUEL PUMP FLOW
TYPICAL GSS340, GSS341, GSS342 FUEL PUMP FLOW